"If I can't have you no one will," man trails ex-lover and stabs her.
It is very sad in this recent times as cases of murder and suicide are becoming common. This generation have not taught their hearts to take disappointments. Many are running to kill their partners rather than working things in the correct manner.
A report that a man has killed his ex-lover claiming that if he doesn't have her then no one else should. This happened after the ex-lover ran away from their home due to cheating. But the man trailed her location and later did the unthinkable.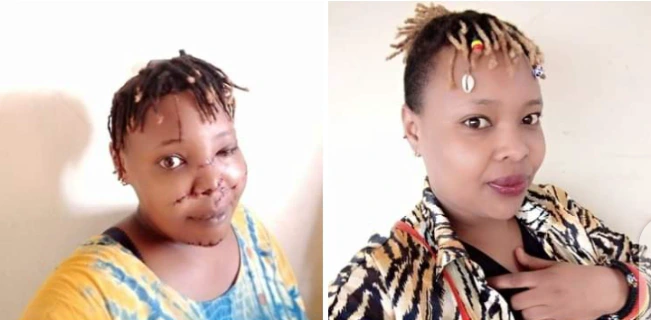 The woman by the name Jacqueline Karimi was stabbed severally on her face by her ex-boyfriend. According to gender based activist, Njeri, Jacqueline was living with his boyfriend for almost 8 years until last year when they parted ways.
The reason for the separation is alleged to be unfaithfulness. Stanley,ex-boyfriend, decided not to let her go. He started trailing her. Later in the year, he stabbed her from the back. Jacky didn't sustain much injury and she reported the incident to the police. Sadly, Stanley managed to escape .
Stanley seemed not to have enough he came back again in January 2021, and stabbed Jacky again. This time he confessed that if he did not have her then no one would. Jacqueline sustained much injuries that she was admitted in the hospital. Another time again, Stanley dodged from the police arrest.
For a third time, Stanley came back on 3rd May 2021. Jacqueline went to a nearby shop where she left her house unlocked, and Stanley managed to sneak in. Upon arrival of Jacqueline back to the house, ambushed her with a Maasai sword threatening to kill her.
Luckily, the neighbors came to her rescue and Stanley was arrested. The case in now in court.
What do you think can be the cure to all this gender violence cases? Share your thoughts on the comment section that is at the bottom of the page.
@sambazanews.com