Mikel Arteta blames Wenger for Arsenal decline.
North London club Arsenal are facing a mediocre mid-table finish and no European football in 2021-2022, this being the first time in over a quarter of a century.
Current Arsenal manager claims that Arsenal decline started five years ago and went ahead to still insist that he is stil the right man to run things out.
The club have decided to stick with Arteta into next season and back him in the upcoming summer transfer window in a bid to rebuild after failing to secure European football.
Arteta warned that the rebuilding job is going to be long term because they started falling behind from when they started finishing outside champion league places under previous manage Arsene Wenger.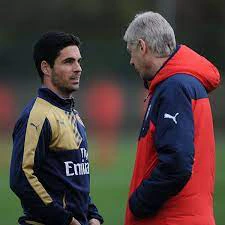 Arteta said ," We have been not competing with the top clubs for the past five years. It's not like this decline started six months ago , it started five years ago and you can see the trend."
He added," When you are it of the Champion league for five years, its not a causality it's a trend."
He also added that there is a lot to be done in order to get back to where the club was at the top.
"We have to be ruthless and there is no time to waste because we have a lot to do. What I felt is deep pain for where the club is at in this moment and everything the club has been through over the last months. I have a feeling that getting into the final would be a great turning point." Arteta said.
@sambazanews.com